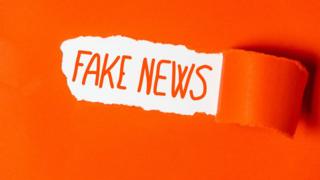 Getty Images
Earlier this week, Nasa shared an amazing video of its Perseverance rover landing on Mars.
The rover touched down on the Red Planet on 19 February, and engineers added seven cameras to the rover to record not only what it's like on the Red Planet, but its journey to the planet too.
But while everyone down on Earth was getting excited, photos were being shared widely across social media which claimed to have been taken from Mars, but are actually fake.
So how do you spot fake images? We've got it covered below.
What is fake news?
Fake news is news or stories on the internet that are not true.
There are two kinds of fake news:
False stories that are deliberately published or sent around, in order to make people believe something untrue or to get lots of people to visit a website. These are deliberate lies that are put online, even though the person writing them knows that they are made up.

Stories that may have some truth to them, but they're not completely accurate. This is because the people writing them – for example, journalists or bloggers – don't check all of the facts before publishing the story, or they might exaggerate some of it.
How do we know the viral image of Mars is fake?
An image showing a cloudy orange Mars skyline with Earth, Venus and Jupiter aligned as white dots in the distance has gone viral this week.
One user posted it on Twitter with the caption: "Earth, Venus and Jupiter as seen from Mars". The post has been liked more than 100,000 times and re-tweeted 16,000 times.
However the photo is not real. It's a computer generated image that has been popping up on the internet since 2012.
Astronomer Phil Plait previously debunked the myth surrounding this photo and explained how:
The colour of the landscape, clouds and sky is wrong

There are too many clouds in the image and they have that "rendered by software" look to them

The letters "NE" are in the lower left corner of the image. They stand for "northeast" – the direction of a compass – and is a feature of computer software programs
Another clue is that the image isn't on Nasa's website – which is where official images from the space agency are uploaded. Since last week's landing, Perseverance has taken thousands of photos from the surface of Mars that are real and they can be viewed on Nasa's website. And here's one below!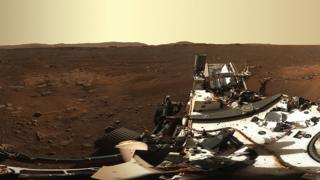 NASA
This photo is REAL! It's the first 360-degree panorama taken by Mastcam-Z, a zoomable pair of cameras aboard Nasa's Perseverance Mars rover. The panorama was stitched together on Earth from 142 individual images taken on Sol 3, the third Martian day of the mission
How to spot fake images and videos
It's not just images that can be computer generated to look like genuine photos, software can now create fake videos that look and sound so realistic people may not actually be able to spot that they aren't the real thing.
They can be created for lots of different reasons, some good and some bad.
They can, for example, help create special effects for movies. But the technology could also be used to create harmful, made-up stories that people might pretend are genuine news.
So to help fight fake news, tech experts are training computers to spot when something just isn't quite right.
Newsround spoke to Marianna Spring, the BBC's specialist disinformation and social media reporter about why fake images – like the one of Mars – can spread so quickly online.
She told us that: "False images are shared on social media for a number of reasons. Sometimes people are deliberately trying to mislead others or exploiting chaos when news breaks – maybe for clicks, to make money or for political influence.
"Here the person seems to have innocently shared the picture, just thinking it was pretty cool.
"That tells us a lot about why false images and videos can be shared so widely online. They often grab our attention – they're emotive, exciting, engaging, scary.
"When a post or picture inspires an emotional reaction, we want to share it with our friends, family and followers. When something on social media evokes strong emotions, just pause for a second and ask yourself – is all as it seems?"
Marianna shared her advice for checking whether an image is real. She said: "There are lots of tools online you can use to check whether an image is genuine. There are sites that allow you to reverse search images – that means instead of typing words into the search box you can insert an image you've saved instead. You can then find out if the picture has been shared before – and usually whether it's old, or has been taken out of context. You can even do this in the Google search box.
"There are simple questions you can ask yourself when you see a video or picture online, too. What's the weather like? If the caption says this was in say the UK in December and everyone in the video is wearing T-shirt – something fishy might be going. Does the location look right? Who has shared it – and where might they have come across it?
"A false image about space that's just quite cool might not seem like much of a problem, but it shows just how easily fake news can travel online. Put your investigator hat on and try to look into what you're seeing online before you share".